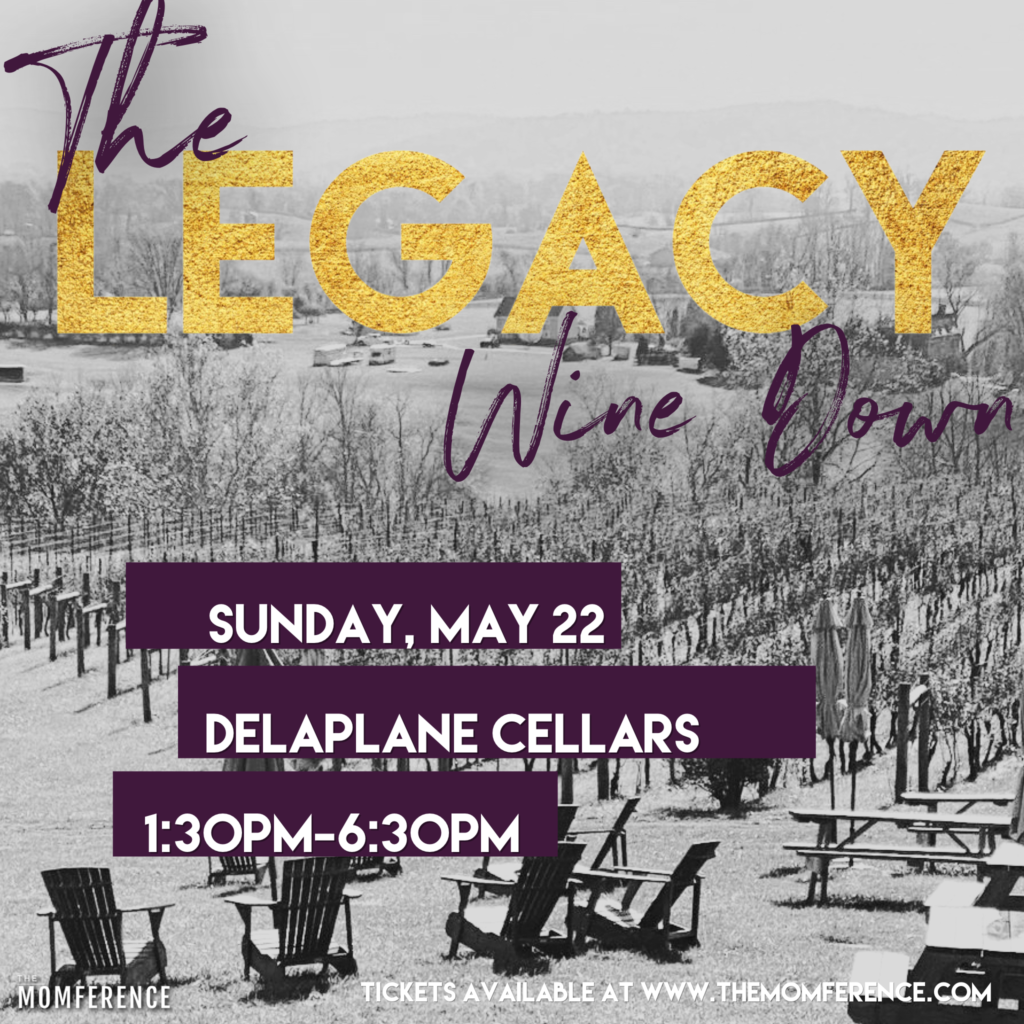 We are celebrating 5 years of The Momference® with our annual takeover at Delaplane Cellars – a sea of Black and Brown goodness at the vineyards. This event is a culmination of Black Mom Joy, Rest, Celebration and Legacy! Guests will enjoy a complete private takeover paired with custom charcuterie boards, instagrammable installations, endless wine pourings, access to two food trucks, a self care chat and dancing over DJ spins, and more!
The Momference® Legacy Wine Down tickets: $175.00
Your luxury experience includes:
Delaplane Cellars wine by the glasses (unlimited).
Individual charcuterie board.
A custom The Momference LEGACY gift.
Unique instagrammable installations.
Live music entertainment.
Access to two food trucks throughout the event.
Luxury transportation provided to and from the vineyards (pick up and drop off in D.C).

Pick up time: 12:30pm
Drop off: 7:30pm

Transportation Sips & Snack Kit.
All guests, regardless of Vaccination status, must submit one Same Day Antigen (homekit self administered tests are acceptable).
Same Day Antigen Test must be taken no earlier than the morning of Sunday, May 22nd. A picture of your test result must be uploaded prior to checking in. IMPORTANT: Guests must write their name and date on their test prior to taking a picture and submitting on our portal.  Failure to upload this correctly will result in our The Momference® on-site healthcare professionals administering a rapid test upon arrival.
Masks are required to be worn upon check-in. Once successfully checked in and cleared under our COVID-19 protocols, guests can operate under our Mask-Optional event policy.
The Momference® healthcare professionals will administer randomized rapid testing upon check-in.
We will have masks and rapid tests on site for guests who need them.
This event is mask-optional as we are taking all the necessary steps to ensure The Momference® Wine Down is a safe, comfortable, and fun weekend experience.
A test is required from each The Wine Down attendee even if you are a conference ticket holder. What does this mean? It means if you have taken a PCR and Covid test for the Gold Ticket Holder & Purple Ticket Holder events, you must still submit a test taken on Sunday to attend the winery. 
THINGS TO KEEP IN MIND
We encourage you to use mitigation strategies such as washing your hands, using hand sanitizer, reducing exposure, and masking on the days leading up to The Momference® Wine Down to prevent catching COVID-19.
If you are experiencing any COVID-19 symptoms leading up to the Wine Down or during the event, refrain from attending or inform a The Momference® staff member so we may take the appropriate steps.
Refunds will not be available for any guests who are unable to attend due to a positive covid-19 test or experiencing symptoms.
District Motherhued® and The Momference® will follow the VA Vaccine mandates for gatherings (indoor and outdoor) that are in place at the time of the Wine Down in May 2022.
There will be no refund issued if you purchase a ticket but do not meet the VA vaccine mandate at the time of the conference
*These events are not included with your Momference ticket purchase, tickets to these events must be purchased separately